The International Journal of Safe Patient Handling & Mobility (SPHM) is a peer reviewed journal focused on bringing together the ever growing body of knowledge on SPHM worldwide. Published quarterly, the journal is available in print, online, or both with individual, institutional, and international subscriptions available.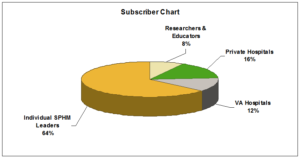 The majority of our subscribers (64%) are individual SPHM leaders involved with the planning, implementation, and evaluation of an SPHM program, such as facility coordinators, SPHM committee members, unit peer leaders, and department managers. There are also many private (16%) and VA (12%) hospitals that subscribe. The journal also provides an excellent source of reference for authors, researchers, educators, and all individuals seeking current trends in SPHM (8%).
Formally changing the name from American Journal of SPHM to International Journal of SPHM is also reflective of our subscriber base which includes representation from the USA, Canada, Sweden, Japan, New Zealand, Australia, and the UK. The International Journal of SPHM is also linking with international SPHM associations around the world to become the global resource for safe patient handling and mobility research and publication.
Equipment/service vendors are so important to the SPHM industry. The International Journal of SPHM is completely committed to supporting these vendors and promoting your solutions to our readership.
The International Journal of SPHM is the only journal dedicated to the safe patient handling industry and is recognized as a global leader in the field.
Media Kit
Fill out the information below to view the Media Kit with advertising options, due dates, circulation, and more.